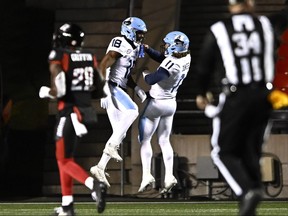 Article content
OTTAWA — The Toronto Argonauts closed out their Canadian Football League regular season with a franchise-record 16th win by beating the Ottawa Redblacks 27-22 on Saturday night at TD Place.
Article content
The Argos also made CFL history completing their season with a perfect divisional record of 10-0.
Article content
In comparison, Ottawa finished the season with a 4-14 record and failed to beat a division rival this season, finishing last in the East Division standings.
Boatmen now wait to play the winner of the East semifinal next Sunday between the host Montreal Alouettes (10-8) and the Hamilton-Tigers-Cats (8-10).
With No. 1 quarterback Chad Kelly dressed but being rested for the East final in two weeks at BMO Fiel, Cameron Dukes finished the game 22-of-34 passing for 317 yards with one touchdown and two interceptions.
Ottawa's Dustin Crum was 22-of-35 for 261 yards with two TDs and two interceptions.
The one highlight for the Redblacks was Devonte Williams reaching 1,003 yards for his first-ever 1,000-yard season.
Article content
Toronto, which didn't dress many of its starting players, took the lead in the first quarter and never looked back.
Trailing 14-6 to start the third quarter Michael Domagala scored his third field goal, from 46 yards, midway through the third to bring Ottawa to within five.
Emotions ran high late in the third quarter when Deonta McMahon ran in for a two-yard TD to put Toronto up 21-9 with five penalties being assessed on the play.
Boris Bede added a 37-yard field goal midway through the fourth quarter to give Toronto a 24-9 lead sending many of the Ottawa faithful for the gates.
Crum managed to give those still in the stands something to cheer about, connecting with Justin Hardy for a 30-yard touchdown with 6:21 remaining, but any hope of a comeback was dashed by Bede's 38-yard field goal to put the Argos up 27-16.
Article content
Keaton Bruggeling scored his first CFL touchdown late in the game for Ottawa connecting with Crum for 16 yards out.
The Argos jumped out early taking a 14-0 lead on a pair of first quarter TDs.
Ottawa's Alonzo Addae picked off Dukes but, on the next play, the Argos came right back with Mason Pierce intercepting Crum and running it back all the way for a 35-yard pick six.
With two minutes left in the quarter Dukes connected with wide receiver Dejon Brissett, who was left all alone for a 61-yard touchdown reception.
Ottawa managed to get down to Toronto's 10-yard line, but settled for a 24-yard field goal early in the second quarter to get on the board. Domagala added a 39-yard field goal at the end of the half to get the Redblacks to within eight.